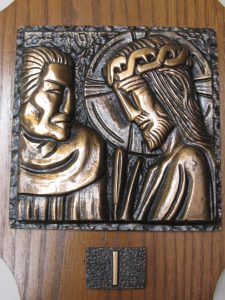 Usually on the Friday's of Lent our community prays the Stations of the Cross together.  These small wooden and bronze plaques 'wrap' around the ambulatory walls of our chapel, beginning at our entrance and finishing opposite the entrance way to the priest's sacristy.  Each time as we gather to pray we try to vary the kind of books we use as 'meditation sources' for our reflections.  Over the past years one of my favorite station books has became the one written by Saint John Paul II.  Its meditations were originally given at the Vatican when the Pope was Cardinal of Krakow, Poland.
What I find personally appealing about this prayer book is the use of actual photographs featuring the biblical places appropriate to the focus of each meditation.  There is a wonderful drama in the description as well.  For instance, the final words of the reflection on the XII station where Jesus dies are especially poignant:  "Here is the man.  Here is God himself.  'In Him we live and move and have our being.'  In Him:  in those arms outstretched along the transverse beam of the cross.  The mystery of redemption."  I have been struck by those last words.  Jesus dies on the cross and we are given redemption and mystery besides!  We are invited to ponder on the mysterious side of redemption that we know is Jesus crucified.
If we look closely at the Lenten liturgy we can discern a plan to help us see more clearly into this mystery of redemption, this desire of God our creator to lead us into perfect freedom.  First though, we are made to realize that there is a real need for our redemption.  We are reminded right from the start of Lent that something has gone radically wrong with our human existence and that each one of us has a wayward inclination to go astray from God.  Made by God, we are nonetheless separate from God and a necessary part of our wholeness and ultimate happiness is that we constantly turn or return by cleansing our hearts, being refashioned in grace, acknowledging our wrongdoing, and being fully reconciled with God.
As we begin to prepare ourselves for this return to God, God wishes to tell us something.  The kernel of God's message to us is found in the story taking place in the first pages of Scripture where we witness God's direct intervention in history.  God is taking an active part in our relationship.  God is not turning a deaf ear but is offering immediate resolutions to our human dilemmas and is giving guidelines to follow to insure his abundant blessings.  Employing vivid imagery the Hebrew writers paint a picture of God releasing his people from the grip of slavery and bondage, liberating them from the hands of oppressors, giving them freedom to live their lives in security and peace.  God is a great deliverer, intervening directly and concretely in the lives of his people.  As we are so frequently told:
"He brought us out of Egypt with his strong hand and outstretched arm, with terrifying power, with signs and wonders; and brings us into this country; He gave us this land flowing with milk and honey."
God will reward the faithful and just with the blessings of harmony and prosperity.  God is the great emancipator from pain, sorrow, oppression, enslavement, everything undesirable on the face of the earth.  Clearly, as we absorb the meaning of what is presented to us in the early liturgical readings of Lent, we are made aware that God is the Lord of history and the giver of all good things.  There does not seem to be much mystery in understanding this; it is clear-cut, foundational and straight-forward.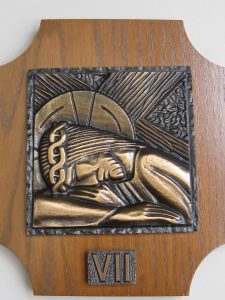 However, we know that there is more to this story that only unfolds as we continue in our journey towards Easter.  We finally reach the point where we are standing at the foot of the Cross looking into the face of a just, honest, good, and upright man.  We do not see prosperity, honor, happiness but degradation and sorrow.  Why wasn't this good man delivered?  Why didn't God reward him for all the good he had done in his life?  Where is God's intervention now?  Our faith grounded in the proclamation of the New Testament writings tells us that we must be prepared for a new understanding of redemption, one fraught with mystery, one where the folly of the Cross and all its ramifications and enigmas take hold of our hearts and minds and spirits, seeking to transform our souls.
One need not look too far to be aware of this 'folly' which is a vital force in our Christian faith.  It has been at work in the lives of many saints, but it does not require us to be saints in order for it to manifest itself.  Just living in the world we live in will give us plenty of opportunities to embrace its mysterious dimensions.  I remember years ago telling a friend of my desire to try the contemplative life of a religious, hoping that this confidence would find a ready word of encouragement.  Instead, I was politely told that I would be wasting my life in doing such a thing and turning my back on so many opportunities of really helping others and making the world a better place to live in.  Or on other occasions, being cautioned that attending church too frequently would make me look like a religious fanatic.  And so it goes.
When we remember that it was not really necessary that the heart of Christ be pierced (for He was already dead), we see again that final reminder from heaven that God's ways are not our ways and that all of our human attempts to put ourselves in control must ultimately bow before God's higher wisdom.  Still, there will continue a fight to the finish to see who wins the human heart:  God or man.  So we must be prepared to understand that God has already revealed his heart in the life of his son Jesus, and be attentive to the twists and turns of God's mysterious ways.
Perhaps a glance at the perceptions found in a recent book on the Sacred Heart will get the point I am getting at in clearer perspective.  Always on the lookout for interesting reading material, a book came to my attention several years ago which promised to be a rich source of information on the history of the Sacred Heart in France.   Its tantalizing list of chapter headings and illustrations made a first handling of the book seem very compelling.  Impressive notes and index put one in awe that its scholarly author left no resource untapped in his attempt to research his topic.  Here was a feast for anyone who loved the Sacred Heart and wanted to learn in-depth information about its historical development in the country of France.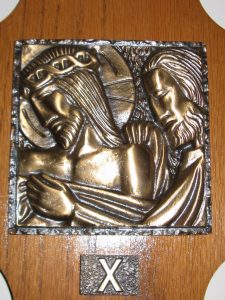 However, one was in for a surprise (if not a shock) as one proceeded to read, for woven into the abundance of its factual presentation were shades of insinuation.  It clearly painted those, like Saint Margaret Mary, as deluded and devious, sometimes using their unique spiritual experiences as tools to squash their rivals and place themselves in the limelight.  Those who followed the Sacred Heart were oftentimes capable of manipulating its appealing aspects in order to attain political, social, and personal advantages.  Its final assessment on the place of the Sacred Heart in the country of France left one dismayed, feeling defeated that all the glorious spirituality of the Sacred Heart in the heart of French culture had left but a feeble imprint.
In following the path of the wounded heart of Christ, we must be willing to travel the road of absurdity.  It is nothing but the folly of the Cross that await those courageous souls who choose Jesus as their one and only love.  Would Saint Margaret Mary complain that she was being misrepresented or misunderstood?  I do not think so.  Her justifications came only when it was a matter of better promoting the message of the Sacred Heart and not for her own benefit.  Like Jesus whose final interactions with those around him did not consist in a multiplication of words, but only in trustful silence, she did not attempt to change the hearts of others by force, but by the quiet energy of her prayer.  How totally counter-productive this appears to our high-powered world.  Yet this is something we need to dwell upon.  The Cross of Christ calls us to empty ourselves and to let go of our urge to grasp, trample, and conquer… in essence, to turn the tide of history toward a more heavenly direction.   Each of us plays our part in the mystery of this redemptive action when we go against the prevailing madness of the "M'eh" culture, that glorification of self which accepts no boundaries or objective values… when we strive to walk the walk to the tune of the 'different drummer.'
Therefore, to tread the path of spiritual foolishness one must be willing to take the chance of being judged inept by the ways of the world.  Remember Paul's words in the first letter to the Corinthians:  "For the message of the cross is foolishness to those who are perishing but to us who are being saved it is the power of God… God was pleased through the foolishness of what was preached to save those who believe.  Jews demand miraculous signs and Greeks look for wisdom, but we preach Christ crucified:  a stumbling block to Jews and foolishness to Gentiles, but to those whom God called, both Jews and Greeks, Christ the power of God and the wisdom of God."
In the apparent folly of the cross dwells a hidden, secret wisdom that only the penetrating eye of love can discern.  That is why despite the great brutality of the crucifixion scene there is evident a greater spiritual dignity and integrity that grips the consciousness of the onlookers.  There is an intangible beauty which radiates from the broken body of Christ.  What seems foolishness yields to an eloquent statement about new life, about resurrection.
There will, I believe, always be hearts that wish to participate in the folly of the cross.  Every age has witnessed its share of men and women whose lives welcomed paradox, contradiction, misunderstanding and outright persecution for the love of Christ.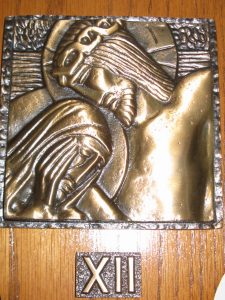 And I am sure that there have been times when we ourselves may have received an askance look because of our devotions, commitments or lifestyles by those who felt that we were being just a bit too intense about our spiritual lives.  At such times we pay the price of rejection that was part of the mystery of the passion and death of Christ.
Christ's heart encourages us to keep on with the work of 'holy folly.'  The magnetic powers and resources of that heart assure us that no eye has seen, no ear has heard, no mind has ever conceived what lies in store for those who would dare to love God, even unto folly.  †
This talk on Sacred Heart Spirituality was given on March 4th, 2017 by one of the Sisters of the Visitation of Holy Mary at the Visitation Monastery in Tyringham, Massachusetts.  The next talk will be held on Sunday, April 8th, 2018 at 4:00 pm.  All are invited to attend.