St. Br. ALBERT CHMIELOWSKI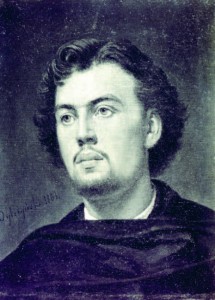 (August 20, 1845 – December 25, 1916)
Feast Day: June 17
Canonized: November 12, 1989
As a young revolutionary and artist in Poland, Adam Chmielowski was not a young man whom people thought would someday be a saint.
Albert (Christened Adam) was born in Krakow in 1845, the eldest of four children in a wealthy aristocratic family.  He and his siblings lost their parents while very young and were raised by a paternal aunt.   Adam's initial education was in agriculture to prepare him for managing the family estate.  They lived at a time when the country of Poland did not 'exist.'  In the late 18th century, the once-mighty Polish nation was partitioned between Austria, Prussia (Germany) and Russia.  The Polish people refused to accept this and were constantly rebelling against their oppressors.  When Adam was 18, he took part in one of these uprisings.  During a particularly brutal battle, a Russian grenade killed Adam's horse under him and severely damaged his leg.  He was captured by soldiers allied with the Russians who took him to a woodman's shed where his leg was amputated without anesthesia.  He was then taken to a hospital for a medical assessment. While the soldiers debated on what to do with their injured prisoner,  Polish allies aided Adam to escape from the hospital hidden in a coffin.  The young Pole accepted his suffering stoically and learned to function with a wooden limb, offering all to God for the cause of Poland's independence and rebirth.
Because of his actions against Russia, it became expedient for Adam to leave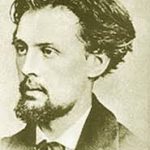 Poland.  He initially immigrated to Belgium where he took up the study of engineering.  During this period, it was discovered that he had artistic talent.  He went on to France and then Germany, where he studied painting and proved his exceptional talent at the prestigious Academy of Fine Arts in Munich.  When he was nearing 30,  Adam returned to his homeland and became one of Poland's most celebrated artists.  His circle of friends included the best-known Polish artists, directors, actors, and writers of this time.
In spite of his growing success, Adam's life of celebrity left him feeling empty; at one point he was even hospitalized for depression.  Throughout this period, Adam remained a devout Catholic and many of his works reflected this, including his masterpiece, the unfinished Ecce Homo, depicting the mocked Jesus.  His need to be closer to God grew and sent him in search of God's plan for him.  He entered a Jesuit novitiate but realized quickly that God did not want him there.   He became increasingly fascinated with the life and teachings of St. Francis of Assisi, and became a secular Franciscan, taking the name of Brother Albert.  He even spent a brief period in a  Carmelite monastery where he grew in spirituality but became reaffirmed that his place was as a Franciscan.
19th century Krakow's socioeconomic problems were many, in particular, social inequality.  More than a fifth of the population was unemployed and homeless.  Although many religious orders were hard at work trying to help the situation in their city, their efforts were insufficient for the ever-increasing numbers of poor.  Concerned with the plight of the impoverished Poles, Adam began working in the city shelter and even opened his apartment to the homeless, eventually realizing that it was to this work that God was calling him.
In 1887 he began his 'religious life' as Brother Albert of the Third Order of St. Francis. Wearing a simple gray habit, he lived in the city homeless shelter with those he served. He soon realized that to bring the poor lasting change, the lice-infested Krakow shelter needed reform.  He negotiated an agreement with the city of Krakow to become the institution's caretaker. To finance this reform, he auctioned off all his paintings.  He began by banning alcohol in the shelter and requiring the residents to do work, teaching them practical skills and lecturing on the Gospels. Within a year, Brother Albert had founded his own branch of the Franciscans, the Servants of the Poor, who are sometimes called the Albertine Brothers. A few years later he founded the 'Albertine Sisters,'  a women's congregation with the same intent of helping Poland's poor. They set up homes for the poor, sick, mentally ill and elderly in over 20 Polish cities.  Today the work St. Albert began continues.  Sharing the life of the poor, he turned each filthy refuge into a warm shelter for Christ and encouraged the brothers and sisters of his Congregation to see Jesus in each human being.  The legacy he bequeathed to his spiritual brothers and sisters was: the complete gift of himself to God in the service of the poor and needy; a life of evangelical poverty according to the example of St. Francis of Assisi; unconditional trust in the Providence of God; and a way of finding prayer and union with God in the work of every day.  In his own words Br. Albert wrote, "You must be as good as bread, which for everyone rests on the table and from which everyone, if hungry, may cut himself a piece for nourishment."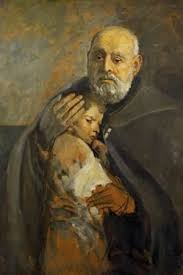 Brother Albert worked and lived with the poor until his death in 1916 during World War I.  At the time of that conflict his 'Albertines' were seen in the trenches aiding the sick and injured among the troops.  St. Albert died on December 25, 1916, in a shelter he himself had opened in Krakow.  His beloved Poland regained its independence and became a 'country' again shortly after his death, in 1918.
St. Albert was an inspiration to St. John Paul II. When Karol Wojtyła began his studies at Jagiellonian University, he was a young, promising actor, playwright, and poet.  Like the young Adam Chmielowski, he found his calling to serve God and the Church was stronger than his love for the arts. John Paul II later said that he found great spiritual support for his own vocation in the life of the Polish saint whom he saw as an example – leaving behind a world of the arts to make a radical choice for the priesthood.
In 1949, the young Father Karol Wojtyła repaid his spiritual debt by writing a play about St. Albert titled Our God's Brother.  A Kracovian urban legend had it that Brother Albert met Lenin (who lived in Krakow after being expelled from Russia) and debated him on how to best alleviate poverty. The play features imagined dialogues between the saint and the communist revolutionary. (In 1997 the play was made into a film.)  As Cardinal Wojtyla, the future pope oversaw the apostolic process for Albert Chmielowski's cause for beatification. After his election to the papacy, John Paul II beatified St. Albert in 1983 and canonized him in 1989.
In proclaiming this 20th century Polish St. Francis among the saints, the Church presents Brother Albert Chmielowski to a world in need of his unique witness of God's mercy.  By his own example, our present Pope Francis  seems to put an exclamation point on St. Albert's message: 
"From his installation of showers and barbers for homeless Romans at the Vatican to his spontaneous meetings with the poor, Pope Francis has beautifully shown that the Church has a 'preferential option for the poor.'  The life and work of St. Albert Chmielowski, likewise, reminds us that a particular vocation of the Christian is to love the poor, marginalized, weak and those with disabilities." 
In today's self-centered age, when professional success is seen as the greatest good, St. Albert Chmielowski — who gave up the life of a celebrity painter to serve Christ by helping the poor — challenging us to ask if we focus too much on worldly goals and ignore life's true meaning.
God be praised for this wonderful saintly man.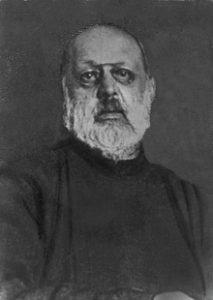 -written by Mary Ellen Reid, member for the Guard of Honor